News and Events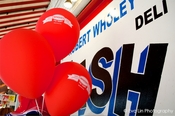 Wholey's Celebrates 100 Years!
Thank you Pittsburgh for 100 Years! We hope you enjoyed the Wholey's Anniversary Celebration. Come back and visit us soon!
Did you join us at the anniversary event? Check out pictures from Wholey's 100th Anniversary Celebration September 21, 22, and 23, 2012.

We are still celebrating here at Wholey's. Stop in to see what's going on! There is more fun to come so stay tuned!