DESCRIPTION
In the world of finer cuisine, scallops have become a favorite for appetizers and savory accompaniments to popular entrees. Unlike wet scallops, dry scallops are untreated and do not contain any additives. They are preferred for their superior flavor, fresher quality, and ease of cooking. These little treasures of the sea also expel less water than wet scallops, so you get a better value. Introduce scallops to your family, and this could be the start of a delicious tradition. Explore the wild-caught quality in our selection of frozen scallops.

Our exclusively fresh scallops were caught off the West Coast. Easy to prepare, you'll soon find that five pounds can be used in a versatile array of savory dishes for your whole family to enjoy. If you are feeling experimental, try these dry scallops thawed, raw, thinly sliced, and marinated in carpaccio, crudo, or ceviche. If you're not in an eccentric mood, scallops taste great atop pastas or salads and as the main ingredient in a hearty gumbo. One of the most popular ways to prepare scallops is by skewering and broiling in the oven or grilling over an open flame during a summer barbecue.

Aside from being extraordinarily flavorful and tender, our frozen scallops contain a variety of nutrients that can promote your cardiovascular health and increase heart rate variability as well as protection against strokes, heart attacks, and several kinds of cancer. These delectable bites are rich in Vitamin B12, phosphorous, and omega-3 fatty acids that support cell repair and growth. Since 1912, Wholey's Market has promised to provide only the freshest seafood and meat available. With our wide selection of healthy and reliable choices, you should have no trouble offering up unique flavors and taste for your loved ones and guests.
SCALLOPS MONTEREY
1 lb. fresh scallops
Vegetable cooking spray
1 tbsp. unsalted butter
2 tbsp. all-purpose flour
3/4 c. skim milk
1/3 c. (1 1/3 oz.) shredded reduced-fat Monterey Jack cheese
2 tsp. grated Parmesan cheese
1 jalapeno pepper, seeded and chopped

Place scallops in a vegetable steamer over boiling water. Cover and steam 3 to 4 minutes. Transfer scallops to 4 individual baking dishes coated with cooking spray; set aside. Melt butter in saucepan over low heat; add flour, stirring until smooth. Cook 1 minute, stirring constantly. Gradually add milk; cook over medium heat, stirring constantly, until mixture is thickened and bubbly. Stir in shredded cheese. Pour cheese sauce over scallops. Sprinkle with Parmesan cheese and jalapeno. Broil scallops 5 1/2 inches from heat until lightly browned. Yield: 4 servings (157 calories per serving.)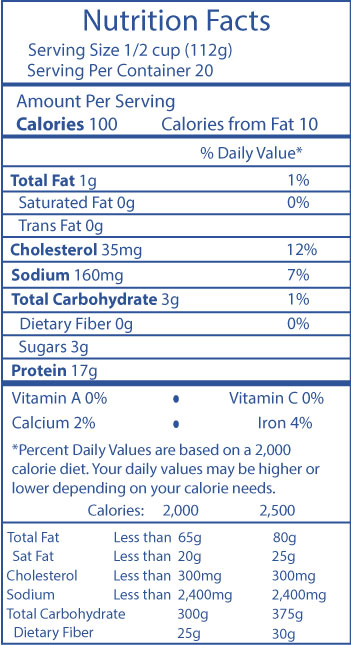 Frozen and Dry Sea Scallops (5 LB.)